The Renewable Fuels Association (RFA) is offering a training course to help ethanol plants meet the requirements of the Food Safety Modernization Act (FSMA). The class is scheduled for March 8–10 in St. Louis and is designed for personnel overseeing a facility's food safety plan.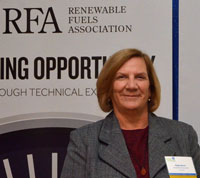 RFA Regulatory Affairs Director and FSPCA Lead Instructor Kelly Davis will team with Ralco Nutrition's Matt Frederking to present the animal food standardized curriculum developed by the Food Safety Preventive Controls Alliance (FSPCA), which is recognized by FDA to meet the requirements for a PCQI.
"This training course is a critical tool to help ethanol plants come into compliance with these new rules," said Davis, who has conducted previous industry training sessions on the topic and is recognized as an expert in the industry. RFA conducted four classes last year that educated nearly 170 ethanol stakeholders awarded PCQI certificates by the FSPCA.