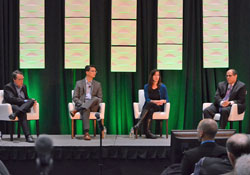 The closing session of the 14th National Biodiesel Conference & Expo last week provided a look back at the accomplishments of the past year and how biodiesel is fueling a low carbon future.
Led by Don O'Connor, a Vancouver-based international expert on greenhouse-gas emissions, the panel discussed biodiesel opportunities from coast to coast.
From the west coast was Simon Mui, Director of California's Fuels, Energy and Transportation Program for the Natural Resources Defense Council, who praised the enactment of the state's latest climate change law that expands on landmark 2006 legislation and now seeks to reduce emissions by 40 percent below 1990 levels by 2030. Biodiesel and renewable diesel are leading credit generators under the California's Low Carbon Fuel Standard and their presence is expected to continue growing with the expansion of this landmark policy,
Jana Gastellum, Program Director of Climate at the Oregon Environmental Council, talked about how her west coast state seeks to reduce the average carbon fuel intensity by 10 percent over a 10-year period under its own Low Carbon Fuel Standard passed last year and how biodiesel will be playing a leading role in the effort.
From the east coast, the panel included Keith Kerman, Deputy Commissioner and chief fleet officer for New York City's Department of Citywide Administrative Services, who discussed how the city's entire diesel fleet – the largest municipal fleet in the country – has converted to B20.
Listen to their conversation here: Biodiesel's Low Carbon Future