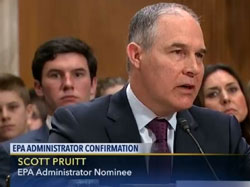 Oklahoma Attorney General Scott Pruitt answered questions about his support of renewable fuels during his Senate confirmation hearing Wednesday to serve as administrator of the Environmental Protection Agency (EPA) under President-elect Donald Trump.
Senator Deb Fischer (R-NE), a member of the Senate Environment and Public Works Committee, asked Pruitt about his commitment to uphold the congressional intent of the Renewable Fuel Standard (RFS). "To honor the intent and the expression of the renewable fuel standards statute is very, very important," Pruitt responded. "It's not the job of the administrator or the EPA to do anything other than administer the program according to the intent of Congress. And I commit to you to do so."
Renewable Fuels Association president and CEO Bob Dinneen was encouraged by what Pruitt had to say. "It is indeed heartening to see Mr. Pruitt reflect the priorities of President-elect Trump and the American people, who overwhelmingly support the increased production and use of American-made renewable fuels," said Dinneen.
During the hearing Pruitt also said he agrees "without question" that Congress intended the RFS to drive growth in the production and use of renewable fuels like ethanol, that EPA's waiver authority with regard to the RFS should only be "judiciously used" and that he is committed to ensuring annual RFS volume requirements are released according to the statutory deadlines.
Listen to Fischer's questioning of Pruitt here: Pruitt confirmation hearing with Sen. Fischer