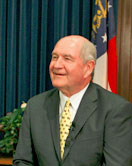 President-elect Donald Trump will officially round out his cabinet by nominating former Georgia Governor Sonny Perdue as Secretary of Agriculture just a little more than 24 hours before the inauguration.
As word about the choice spread Wednesday evening, most groups were waiting until the official announcement to respond, but one of the first was the Iowa Renewable Fuels Association, which expressed concerns about the views of key Trump nominees overall toward the Renewable Fuel Standard (RFS).
Iowa RFA Executive Director Monte Shaw says while they "appreciate that President-elect Trump has shared his pro-renewable fuels standard (RFS) views with each Cabinet nominee…there is concern in the Midwest that no Cabinet pick has a demonstrably pro-RFS track record and that there is no Midwestern representation in the Cabinet." Shaw says they urge Trump to "create internal balance with his next round of agency leadership appointments, especially within the EPA."
George Ervin "Sonny" Perdue III is 70 years old and served as governor of Georgia from 2003 to 2011 and was the first Republican governor elected in 130 years. He grew up on a farm, was a veterinarian and operates grain and fertilizer businesses. And even though Georgia is a top poultry producing state – no, he is not related to the Perdue poultry business.