The National Biodiesel Board presented its annual Eye on Biodiesel awards this week at the organization's annual meeting in San Diego.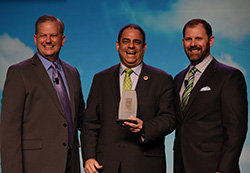 Climate Leader Award – New York City Council Member Costa Constantinides – who sponsored a measure that grows the amount of biodiesel in heating oil in the City from the current two percent level to five percent October 1, 2017, moving to 10 percent in 2025, 15 percent in 2030, and 20 percent in 2034.
Costa award comments Costa media comments
National Energy Leadership Award – Gov. Terry Branstad – The state of Iowa is a national leader in clean energy production and is the number one biodiesel producing state in the country, thanks in large part to strong leadership within the state.
Gov. Branstad accepted the award via video. Gov. Branstad, Energy Leadership Award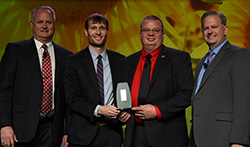 Industry Partnership Award – The Illinois Soybean Association Checkoff Program and the American Lung Association in Illinois for the B20 Club – focused on raising the profile of exemplary fleets that use B20 in any type of diesel engine.
Accepting the award were Illinois Soybean Association board member and farmer Jeff Lynn and John DeRosa, director of the American Lung Association in Illinois. Industry Partnership Award Interview with Sarah Mark, City of Moline and Jeff Lynn, IL Soybean Assn.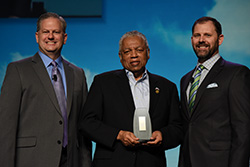 Influence Award – Ron Flowers – Greater Washington, DC Clean Cities – worked closely with the National Biodiesel Board as well as the National Biodiesel Foundation, resulting in the use of thousands of gallons of B20 blends. He has been instrumental in the DC Government, Smithsonian Institution, American University and many others switching to biodiesel. Ron Flowers, Influence Award