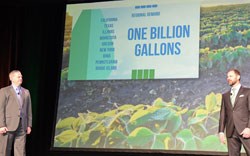 National Biodiesel Board CEO Donnell Rehagen and Chairman Kent Engelbrecht of ADM kicked off the 2017 National Biodiesel Conference in San Diego Tuesday with a look at how biodiesel has continued to triumph over the years despite being an underdog.
"NBB was created by a visionary and insightful group of soybean organizations in 1992, before biodiesel even existed in the United States," said Rehagen, who was just named CEO of the organization in October 2016. "Think about that…a trade association was created for a product that didn't exist."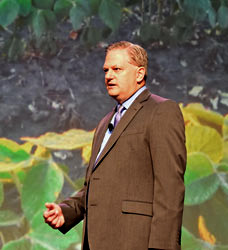 Rehagen noted that the biodiesel industry is preparing for the new administration. "Like so many others we are eager to see what the coming months and the Trump Administration will mean for renewable energy, for tax reform and for the RFS," he said. NBB will be redoubling its efforts in DC this year by hiring a second lobbyist and a Director of Advocacy whose job will be to increase member company outreach on Capitol Hill.
Engelbrecht, who was elected NBB chairman in November, says they are very optimistic about the future. "We all know the hard fights will continue. But we also understand and appreciate the history and the strengths that the industry and NBB share," he said. "We are tried and proven underdogs."
Listen to their comments here: Rehagen and Engelbrecht, general session
Listen to Rehagen's press conference here: NBB CEO Donnell Rehagen meets the press