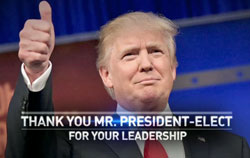 The renewable fuels industry is thanking incoming President Donald Trump with a new television ad airing this inauguration week. The new ad will be airing during MSNBC's Morning Joe program and will also appear on digital channels.
"Donald Trump's campaign united millions of voters who care deeply about America's leadership on clean, homegrown energy," said Bob Dinneen, president and CEO of the Renewable Fuels Association (RFA). "Strong support for the RFS will drive billions in new investments and ensure that consumers don't have to choose between low prices and clean, homegrown fuels. We're grateful for the President-elect's support and urge him to stand strong against those who seek to undermine the single most effective clean energy policy working to lower our dependence on oil."
The new ad features Trump's comments that "family farms are the backbone of this country" and his promise to protect the Renewable Fuels Standard. It was produced by Fuels America, a combined effort of several industry organizations, including RFA, Growth Energy and BIO.