Iowa Secretary of Agriculture Bill Northey announced the winners of this year's Ethanol and Biodiesel Marketing Awards during the Petroleum Marketers & Convenience Stores of Iowa Annual Meeting in Des Moines on Jan. 11th.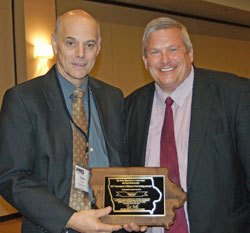 Charlie Good, owner/operator of Good & Quick in Nevada, received the 2017 Secretary's Ethanol Marketing Award.
Charlie Good not only offers E15 for vehicles in the Nevada area, he also offers biodiesel, E20, E30, E85 and is a leading national figure for ethanol promotion. He is relentless in educating his customers on renewable fuels and promoting consumer choice at the pump. He has briefed Congressional staff on the value of E15 to the environment, the economy and national security and his photos and testimonials are used nationally to promote ethanol. He will be going back to Washington, DC, in March to lobby for more ethanol standards for E-15 and above. His increased sales of higher ethanol blends are proof that no ethanol "blend wall" exists. He has shown true leadership in renewable fuels marketing and is visionary in his promotion of this renewable resource.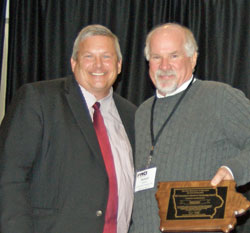 Richard Weiner with Cartersville Elevator, Inc. in Nora Springs is the winner of the 2017 Secretary's Biodiesel Marketing Award.
Richard Weiner's commitment to biodiesel transcends the on-road diesel market and extends to his entire slate of fuel products. All diesel fuel sold by Cartersville Elevator, regardless of the season, includes some mixture of biodiesel—and has for nearly a decade. Because of the tireless marketing efforts of Mr. Weiner and Cartersville Elevator, their end-user fuel customers are not only comfortable consuming biodiesel, but they are now supporters and advocates for this homegrown product. They are leaders in biodiesel promotion and in demonstrating its benefits.
The awards were created by the Iowa Department of Agriculture and Land Stewardship to recognize fuel marketers that have gone above and beyond in their efforts to promote and sell renewable fuels.