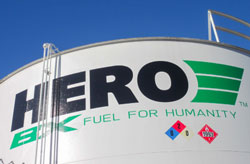 Pennsylvania-based biodiesel producer HERO BX has launched the HERO BX Branded Bioheat® Program, offering heating oil retailers the opportunity to carry the HERO BX brand and supporting technical
and marketing benefits in exchange for Bioheat® supply contracts. The company signed DF Richard Energy of Dover, New Hampshire as its first Bioheat® branded dealer this week.
In conjunction with the new branded dealer program, HERO BX has leased a 5,000-barrel storage facility in North Hampton, NH that will help jumpstart the program. HERO BX invested in the infrastructure
that allows for biodiesel/heating oil rack blends from B2 through B80, allowing branded retail dealers an automated solution for Bioheat® supply and distribution. The company is seeking similar northeast US terminals that will help support the programs growth.
HERO BX manufactures 60 million gallons of biodiesel annually from its plants in Erie, PA and Moundville, AL.