Aurora Cooperative Elevator Company (ACEC) has entered into a partnership with Pacific Ethanol with the resulting entity called Pacific Aurora LLC (PAL). Under the agreement, Pacific Ethanol is offering its Aurora plant assets, inside loop track and land while ACEC is contributing its Aurora West Grain Elevator located in Aurora, Nebraska, along with loop track, related land and other assets. ACEC will own 26 percent of the new entity offering $30 million in cash and grain operation assets while Pacific Ethanol will own the remaining 74 percent of the combined ethanol production, grain elevator and rail facilities of PAL.

Chris Vincent, ACEC's President and CEO, stated: "We are pleased and excited to deepen our relationship with Pacific Ethanol. We will be combining Aurora Cooperative 's grain terminal and handling facility with both of Pacific Ethanol's adjacent bio-refineries. Our plan is to unify both entities' operations to gain efficiencies and enhance performance. Aurora Cooperative will use its years of grain origination and operations experience combined with Pacific Ethanol's production expertise to greatly benefit Pacific Aurora, LLC. Bringing both companies' resources together benefits our collective stockholders, and adds value and strength to our communities, the State of Nebraska and both the ethanol and grain industries."
Under Pacific Aurora ACEC will manage the corn receiving operations and origination of all grain on behalf of PAL. ACEC's ownership in pal, says the company, will also allow for its owners to participate downstream revenue and vertical integration of the grain industry through ethanol and create new marketing opportunities for its farmer owners.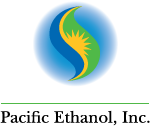 "In this series of agreements, we will accomplish a major milestone for the company by refinancing the Midwest plants' term debt at favorable terms, strengthening our balance sheet and significantly lowering our cost of capital," said Neil Koehler, Pacific Ethanol's President and CEO. "The expanded strategic relationship with the Aurora Cooperative allows us to directly benefit from farmer ownership in our ethanol business, which has proven to be a winning combination over the years in the ethanol industry. These transactions are immediately accretive to our shareholders and create new growth opportunities for Pacific Ethanol."