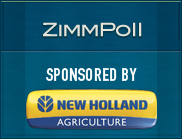 Our latest ZimmPoll asked the question, "What's on your Christmas list?"
I hope you all have your Christmas shopping done. I am soon heading out to tackle a few last minute items. Like many in my family, gifts cards seems to be a favorite item for Christmas lists. Our poll falls in line with that trend. Those are quite boring to buy, but oh so easy! I just can't believe no one has farm equipment on there list this year.
Here are the poll results:
Electronics – 29%
Clothes – 21%
Farm equipment – 0%
Cash or gift cards – 36%
Other – 14%
Our new ZimmPoll is live and asks the question, What 2016 ag news will have most impact on future?
As we begin to wrap up 2016, we began to reflect on some top news stories which have topped newsrooms, coffee shops and tractor cabs throughout the year. Let us know what 2016 ag news will have the largest impact on the future. Might it be the Presidential election, biofuels, GMOs or the farm economy?