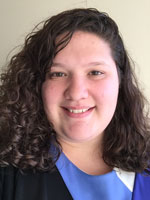 The Iowa Renewable Fuels Association (IRFA) has announced Cassidy Riley as Communications Director for the organization.
Riley most recently worked as the Central Iowa Field Director for Senator Chuck Grassley's 2016 reelection campaign. Prior to the campaign she clerked in the Iowa House of Representatives for Rep. Tom Moore. "I'm thrilled to join the IRFA team because I get to use my skills in communications to advocate for the growth of something I believe in – renewable fuels that are good for our economy, environment, and national security," she said.
Riley is a December 2015 graduate from the University of Iowa with a Bachelor of Arts degree in Journalism and Political Science. her responsibilities with Iowa RFA will include media and member relations, social media and web communication, and promotion of biodiesel and biodiesel co-products.