Waterford School District (WSD), in Michigan, has debuted 10 new school buses powered by propane autogas. The school district joins nearly 30 others in the state who are also fueling their bus fleets with propane. Each Blue Bird Vision Propane bus is retrofitted with propane fuel systems manufactured by Michigan-based ROUSH CleanTech.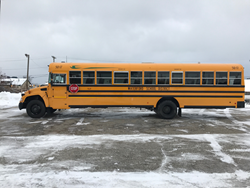 "Prior to joining WSD, I had a very positive experience with propane-fueled buses," said WSD Superintendent Keith Wunderlich. "School buses operating on propane are environmentally friendly and reliable in cold weather conditions, plus offer cost saving benefits." Another reason WSD purchased propane buses, said Wunderlich, is because they provide the safety of a quieter running engine.
Wunderlich also noted that although the initial purchase cost of each propane-autogas bus is higher the "savings in overall cost of ownership versus a diesel bus is worth the initial cost."
The Blue Bird Propane bus is equipped with a Ford Motor Company 6.8L V10 engines. According to ROUSH CleanTech, when compared to diesel, each bus emits 80 percent less smog-producing hydrocarbons and eliminates nearly all particulate matter. The WSD fleet of propane buses will reduce nitrogen oxide emissions by around 10,000 pounds and particulate matter by an estimate of 315 pounds each year as compared to the diesel buses they replaced.
"Waterford School District joins hundreds of school districts across America making the decision to find fuel alternatives for their buses," added Brian Carney, executive director of school bus and customer support for ROUSH CleanTech. "Propane is a proven choice that costs about 50 percent less than diesel per gallon and reduces maintenance costs due to its clean-operating properties."