Over the past few weeks President-Elect Donald Trump has been announcing his nominations for Cabinet positions including Oklahoma Attorney General Scott Pruitt to lead the Environmental Protection Agency (EPA). While Trump was supportive of biofuels during his campaign, notes Brian Jennings, executive vice president for the American Coalition for Ethanol (ACE), Pruitt has been vocal in his opposition to clean energy including the Renewable Fuel Standard (RFS) of which he has called "unworkable."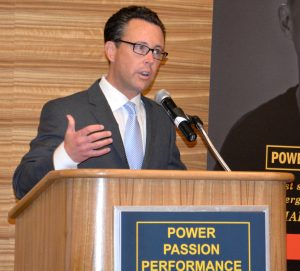 Jennings explains that all Cabinet nominees, including Pruitt, must have the majority vote of the Senate Environment and Public Works Committee and 51 votes in the full Senate to earn confirmation. That is why, says Jennings, it is important for senators, who have both leverage and a responsibility, to secure commitments from Pruitt to ensure that programs such as the RFS, and the move to remove regulatory restrictions on the use of E15 and flex fuels are secure, before they vote.
"We are asking ethanol supporters from all walks of life to contact their senators and vet Scott Pruitt properly, and make sure they are comfortable on where he stands on ethanol issues before casting a vote to confirm him to lead EPA," says Jennings.
ACE is making contacting senators easy with its Action Center. When an ethanol supporter types in his or her information, the result will be the names of his or her two senators. From there he or she can type in a personal message or use talking points that ACE has provided on some of the important questions senators should be asking Scott Pruitt as they meet one-on-one with him during this confirmation process. For example, where will you stand on implementation on the RFS? Will you provide regulatory relief when it comes to reid vapor pressure limitation pressures on E15 and flex fuels?
"Those are the types of assurances or questions we're encouraging our members to urge their senators to address with Mr. Pruitt and get satisfactory responses from him before a vote to confirm him to lead the EPA," says Jennings.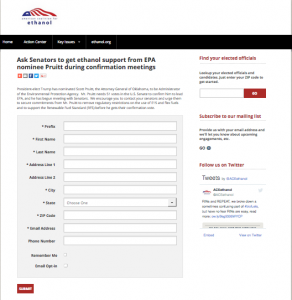 Another way to have your voice heard? Participate in ACE's annual Fly-In. This year it is taking place on March 22-23, 2017 within 100 days of the Trump presidency. And that is what is so vitally important, stress Jennings, because President Trump has a very ambitious agenda he would like to implement during his first 100 days and this new Congress is going to be eager to want to do that.
"So we in the ethanol industry and particularly rural America…have a real opportunity to capitalize on that political goodwill…and try to get some of our priorities addressed in that 100-day time frame," says Jennings.
To learn more about ACE's call to action and their Fly-In, listen to my interview with Brian Jennings here: Interview with Brian Jennings, ACE