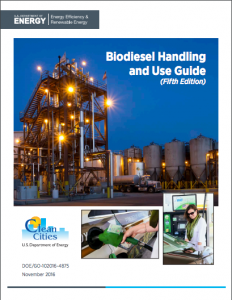 In conjunction with the U.S. Clean Cities program, the Department of Energy (DOE) has released the fifth edition of its Biodiesel Handling & Use Guide. The publication serves as an educational tool for those who blend, distribute and use biodiesel, and is targeted to fleets, blenders, distributors and anyone involved in related activities. The guide offers basic information on the safe use of biodiesel in engines and boilers, and was designed to help users understand the procedures for handling and using biofuels fuels.
"This guide is an important tool for the industry as we see biodiesel volumes in the marketplace continue to grow," said Scott Fenwick, technical director at the National Biodiesel Board (NBB). "More American's are using biodiesel than ever before, and reliable, accurate information is critical for the fuel supply chain all the way down to end users."
The Biodiesel Handling & Use Guide was authored by the National Renewable Energy Laboratory (NREL), a DOE lab.