The Renewable Fuels Association (RFA) is thanking the U.S. Environmental Protection Agency (EPA) for its commitment to the Renewable Fuel Standard (RFS) by increasing renewable volumes across the board for 2017. This includes raising the conventional biofuel category back to where the statute intended – 15 billion gallons per year from 14.8 billion gallons as proposed in May of 2016. In response, RFA President and CEO Bob Dinneen said that they are very happy and at the end of the day, this is a win for consumers.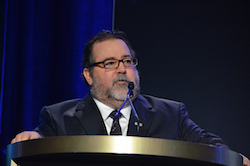 "What this means is that there will be additional gallons of high octane, low cost renewable fuels like ethanol available in the marketplace and consumers are going to benefit," Dinneen told AgWired. He said it sends a strong single to investors that the EPA is behind this program and they can "invest with confidence with next generation biofuels and invest in confidence in the infrastructure to accommodate higher level blends. Because EPA with this rule is clearly demonstrating that it is not going to be looking backwards as API would like and is looking forward," added Dinneen.
With 15 billion gallons of biofuels, including corn ethanol, blended in to the fuel supply, Dinneen said this gets ethanol to about 10.8 percent across the gasoline pool. This will drive, he continued, new gallons into E15 and other higher octane blends of ethanol.
When asked why the EPA had not raised the gallons sooner, Dinneen explained that the EPA believed there was not enough infrastructure to accommodate the levels required by the statute. But with infrastructure programs like USDA's Biofuels Infrastructure Program, along with more terminals offering E15, the EPA is now confident the marketplace is ready for more biofuels. "So between rising gasoline demand enabling more E10, but certainly the rise in infrastructure enabling other higher level blends, EPA is more than comfortable at this point requiring 15 billion gallons," said Dinneen.
Going forward, Dinneen said they will continue to watch the Hill in light of API's campaign calling for the RFS to be restrained and to roll-back volumes to no more than 9.8 percent of ethanol to be used in gasoline.
"Well that's just absurd," said Dinneen, "when we can clearly get more than 10.8 percent that is going to be required of this RVO. But API is going to double-down on its campaign and that battle will continue. The Renewable Fuels Association, the ethanol industry and farmers across the country are going to fight hard to protect this program. The demand for corn through ethanol production has been the single-most value-added market for farmers and at a time when farmers are harvesting the single largest crop in history. For the American Petroleum Institute to be saying no, we need to be cutting back on this program, I think is a slap in the face to farmers and we will not let it happen," said Dinneen.
To learn more about what the increased RVO's mean for the ethanol industry, including continued efforts to increase infrastructure, listen to the interview with Bob Dinneen here: RVO Interview with Bob Dinneen, RFA