A new filter is now available tailed for propane systems. Alliance AutoGas has partnered with Donaldson Company and the new line of LPG filters are designed to remove potentially harmful particulate matter and heavy ends from propane autogas systems. The filters are available through nationwide propane equipment distributors.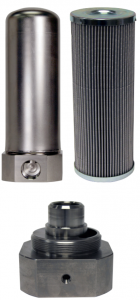 Donaldson has more than a 100 year history of developing innovative engine air filters. That, said Alliance Autogas, made them a good fit to develop the propane system filter as the organization brought to market the first and only Plug and Play Engineered system for propane as well as the several other products including the Staubli Quick-Connect Refueling Nozzle and the Propane Evacuation Pump.
As propane becomes more popular, the two companies worked together to bring filters to market that are designed to eliminate potential fuel contamination issues with autogas fuel dispenser systems. According to a news release, a highly efficient primary LPG particulate filter was developed to remove 99% of harmful particulates 0.5 micron and larger as well as a secondary absorbent carbon filter specifically engineered to remove heavy ends, without removing the odorant from propane.
The filter housings are made from a high phosphorus nickel-plated steel, meeting current NFPA 58 (5.17.1.3) requirements for Pressure Containing Metal Parts, unlike other currently available autogas filtration products. The dual filter design can be tailored to a fleet's specific need. The filters can be sold and installed separately or together, to ensure a customized solution.