Growth Energy sent Co-Chair Tom Buis to the recent National Association of Farm Broadcasting convention to talk about topics important to the industry including the EPA's Point of Obligation ruling and what Donald Trump as president may mean for the ethanol industry.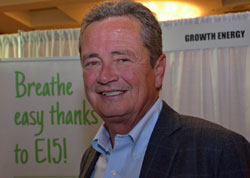 To answer the election question, Buis noted that going into the Iowa Caucuses there were 21 candidates with only three having made public statements about the Renewable Fuel Standard (RFS) – Mike Huckabee, Rick Santorum and Hillary Clinton.
"A good chunk of those even said negative comments about ethanol," said Buis. In response, the ethanol industry created the biggest issues campaign ever in Iowa to educate the presidential candidates that ethanol is a good thing and to educate the worldwide press. "All eyes were on Iowa for a long time," Buis noted.
"Obviously we succeeded because at the end of the day the two nominees of the major parties both said pro-RFS statements," Buis said. "Now we're in devils in the details."
Using one of his favorite sayings, "Hypocrisy in Washington is not a sin it's a fine art," Buis said the industry must keep the Trump Administration's "feet to the fire" and continue to work with them. "We're confident that Mr. Trump is on our side and we'll continue to work with his transition team and his new appointees and others to make sure it stays there."
In this interview, Buis also talks about what they are expecting from EPA in the volume obligations under the RFS: Interview with Tom Buis, Growth Energy
View and download photos from the event here: NAFB Convention Photo Album