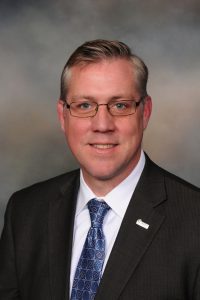 This week, Iowa Biodiesel Board (IBB) former leader Chad Stone, with the Renewable Energy Group (REG), was elected to a leadership position with the National Biodiesel Board (NBB). Stone recently served as the immediate past chair of IBB. The election took place in St. Louis, Missouri last week during NBB's annual fall meeting. NBB's board is comprised of 15 governing board members, including four executive officers.
"The year ahead is important as we will be in a vastly changed political landscape, and we'll be working hard to continue to grow the volumes of biomass-based diesel," Stone said. "I'm optimistic for the future of NBB, and for America's Advanced Biofuel. I look forward to serving as an officer in this important national organization."
Two other Iowans were also elected to positions on the NBB Board. Ron Heck, soybean farmer from Perry, Iowa who is currently serving as IBB treasurer and representing the Iowa Soybean Association on the IBB board, along with Steve Nogel of AGP, a biodiesel producer with biorefineries in Sergeant Bluff and Algona, Iowa.
"The fact that Iowa is the leading biodiesel-producing state is reflected in the makeup of the national organization's leadership," said Grant Kimberley, executive director of IBB. "This will be a critical time to maintain the momentum of this American manufacturing industry, and Chad's leadership will help guide the national effort."