So far this year biodiesel has secured some great wins. During the National Association of Farm Broadcasting's (NAFB) Trade Talk, Cindy Zimmerman spent a few minutes with Nebraska farmer Greg Anderson who is the National Biodiesel Board (NBB) treasurer. They spoke about some of the 2016 successes for the biodiesel industry.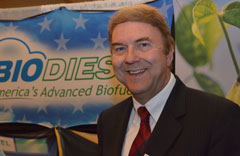 One big success was New York City's increased support of Bioheat – a blend of heating oil and biodiesel. Anderson noted, "We're excited about the recent developments in New York City where the city council passed a mandate increasing biodiesel usage in heating oil (Bioheat) from 2 percent to 20 percent by the year 2034. So this will go up incrementally year-by-year. That's good news for Midwest soybean farmers and good news for the whole biodiesel industry."
Anderson added that with this mandate in place, New York City is now the single largest user of biodiesel in the country. "The heating market in New York City is just a billion gallons by itself, so when you take 20 percent of a billion gallons you're looking at a lot of gallons of biodiesel being commanded to that market," continued Anderson. "What's good with New York City is they set the pace for other cities and states around it who take a look at that model and then will put that in place as well. So we're going to see that usage expand through the whole Northeast sector commanding a lot of demand for biodiesel in the future," he added.
Anderson also discussed the Renewable Fuel Standard (RFS) where he said NBB continues to ask for increasing standards by 2022. They would like to see the standards increase to 2.5 billion gallons now – the industry is already surpassing 2 billion gallons per year – and then up to 4 billion gallons by 2022.
"It's time for our nation to really embrace this and we're seeing it happen…Really, biodiesel is the tip of the spear driving the Renewable Fuels Standard and we can be very proud of that," concluded Anderson.
To learn more, listen to Cindy's interview with Greg Anderson here: Interview with Greg Anderson, NBB
View and download photos from the event here: NAFB Convention Photo Album