According to new government data, September U.S. ethanol exports were 99.6 million gallons (mg), an increase of nearly 28 percent or 22 mg over August exports. The data was analyzed by the Renewable Fuels Association (RFA) and found that September is the highest monthly volume export in nearly 5 years (December 2011). Just six countries purchased 92 percent of U.S. ethanol exports in September. According to RFA, the increase can be attributed, in part, to 27.9 mg in shipments to Canada, which increased by 33 percent from August exports. Coming in second is Brazil, with imports of 18.1 mg down from 7 mg the prior month. China's exports were back on the upswing with imports of 17.8 mg followed by the Philippines (10.4 mg), the United Arab Emirates (9.2 mg) and South Korea (5.4 mg). Year-to-date exports stood at 693.9 mg, implying an annual total of 925.2 mg for calendar year 2016.
September exports of U.S. denatured fuel ethanol more than doubled from August to 44.1 mg. The top three markets were Canada with 26.0 mg (59%), China with 14.9 mg (34%) and Peru with 3.1 mg, (7%). Export sales of undenatured fuel ethanol in September held firm at high levels, increasing 2 percent over August levels to 51.5 mg. Brazil backed off from August undenatured imports, buying 18.1 mg (35%) in September. The Philippines export market was reinvigorated with 10.4 mg (20%) of undenatured product, while the 9.2 mg (18%) to the UAE reflected only the second time in two years that U.S. undenatured ethanol entered the country. South Korea, China and Singapore were other larger customers for undenatured fuel ethanol.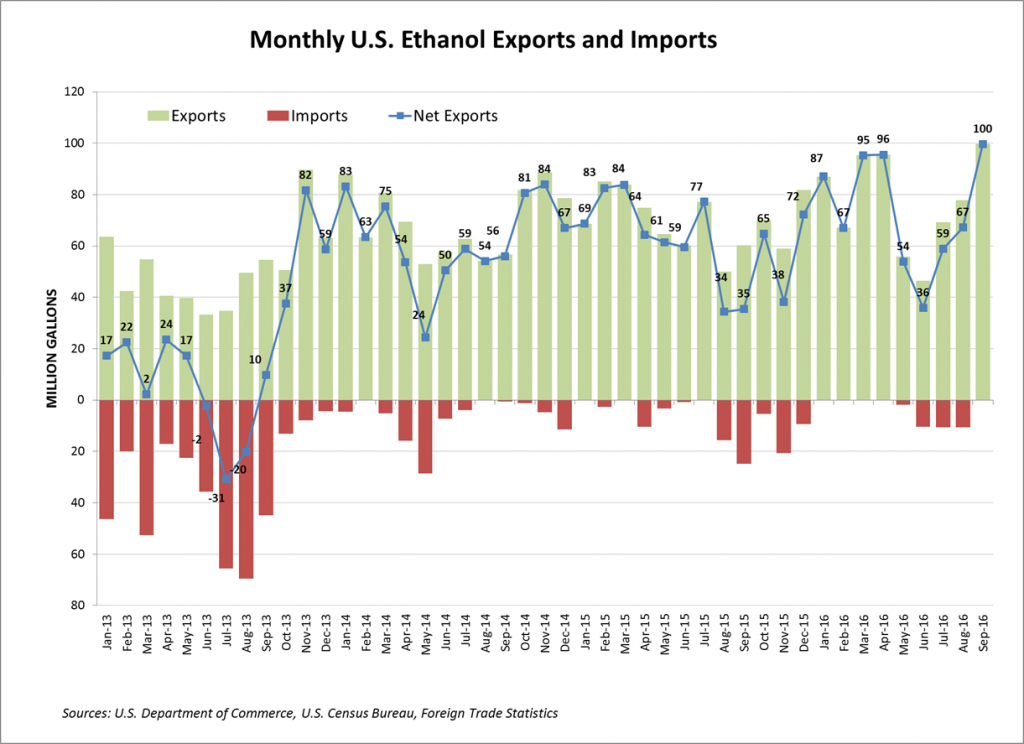 September sales of denatured ethanol for non-fuel use dropped back to a more normal volume of 2.1 mg after reaching nearly 6.5 mg in August. Canada was the primary customer with 1.9 mg, down from 3.0 mg the prior month, while the remaining volume was parceled out among several countries.
Following three straight months of sizable ethanol imports, September volumes entering the United States were fairly insignificant at just 5,535 gallons. About 5,000 gallons of undenatured ethanol were sourced from China and the remainder was Canadian denatured ethanol. Year-to-date total imports are 33.7 mg, suggesting annualized imports just shy of 45 mg. Should this volume be realized, the United States would import less than half of what it brought in for calendar year 2015.
U.S. distillers dried grains with solubles (DDGS)—the animal feed co-product from dry mill ethanol production—in the global marketplace have been making measurable strides since the beginning of the year; however, September data showed a 15% pull-back from the prior month with 990,971 metric tons (mt) shipped. Once again China was the top market for U.S. exports with 166,650 mt, which is a third less than entered the country in August. China's share of the total U.S. export market in September fell to just 17%–in sharp contrast to taking in half of all U.S. distillers grains exports in calendar year 2015. In September, South Korea increased its offtake to 166,650 mt (13%) and Vietnam purchased 123,267 mt (12%), while Mexico scaled back from August volumes by 39 percent to 122,513 mt (12%). Other larger markets include Thailand (87,506 mt), Egypt (56,461 mt), Turkey (46,200 mt) and Canada (41,291 mt). Through September, DDGS exports stood at 8.6 million mt, indicating an annualized total of 11.5 million mt. If realized, this would be the second largest DDGS export volume in history.