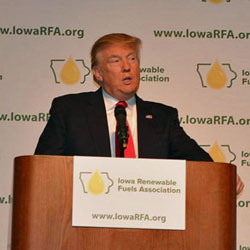 Several presidential candidates attended the 2016 Iowa Renewable Fuels Summit, including Donald Trump, who may yet be elected the next president of the United States.
No matter who wins, the final outcome will have likely have an impact on the renewable fuels industry, so the 2017 Iowa Renewable Fuels Summit will seek to address the future of biofuels and their role in energy and trade policy.
"Given the record corn harvest and an uncertain political climate, farmers and renewable fuels producers are understandably focused on not only preserving but also growing biofuels markets at home and abroad," said IRFA Managing Director Lucy Norton. "Assessing the current terrain and charting an effective course for the future will be key topics of this year's Iowa Renewable Fuels Summit."
Registration is now open for the 2017 Iowa Renewable Fuels Summit, which will be held at the Prairie Meadows Conference Center in Altoona on January 31, 2017. For more information, visit IowaRFA.org/summit.