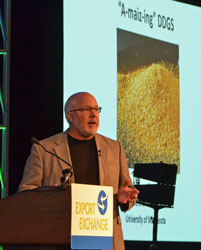 Research continues to show the value of dried distillers grains (DDGS) as a high quality animal feed, and the need to increase global demand for DDGS was a hot topic of discussion at this year's Export Exchange. Dr. Jerry Shurston, professor at the University of Minnesota and Consultant for the U.S. Grains Council (USGC), gave a presentation during this year's event on the co-product's potential in both the domestic and the global animal feed markets.
For the last 18 years, Dr. Shurson has focused his research on the ways to increase the value of DDGS, a product that he finds truly amazing. He discussed how production, exports, and the industry's understanding of the feeding value of DDGS has changed through his years of studying the industry.
"One of my messages today is that we've got to narrow this gap between what we've discovered at Universities and through research and helping those that are buying and using the product to know how to use it to optimize its value," he said.
Listen to his full presentation here:
A-Maizing DDGS Presentation
He also discussed what he called "precision DDGS," referring to the changes in the technologies that are able to analyze an assess the properties of DDGS that have long been thought of as variable and uncertain.
"Here's an ingredient that is a co-product, and anytime that you have a byproduct or a co-product, you have variability in nutrient composition and quality, and it creates questions in end users," he said in an interview following his presentation. "What I was taking the group toward today is that we've developed technologies to take some of this uncertainty out of the market and allow us to more accurately assess the economic value and the nutrient profile of this ingredient."
Learn more in Cindy's full interview with Dr. Shurson here:
Interview with Dr. Jerry Shurson, University of Minnesota
View and download photos from the event here: 2016 Export Exchange Photo Album.
Coverage of Export Exchange 2016 made possible by