Mexico's Secretariat of Energy (SENER) and the U.S. Department of Agriculture (USDA) recently hosted a workshop in Mexico City to help local authorities determine how ethanol fits into their country's energy mix. The two day workshop featured the latest environmental research on ethanol, technological advances in production, distribution and commercialization of ethanol for mixture with fuels, and how other countries have benefited from biofuels programs.
Among the experts were representatives from the National Federation of Biofuels of Colombia, the Ministry of Industry and Commerce of Paraguay, and the United Nations' Sustainable Energy For All. From the United States, there were experts from Oakridge Labs, the American Lung Association, Urban Air Initiative, Growth Energy, the U.S. Grains Council, University of Illinois-Chicago, and Lifecycle Associates.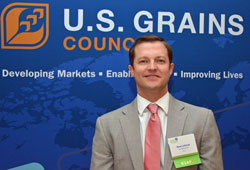 At the conclusion of the workshop, USDA and SENER agreed to establish a bilateral ethanol working group to continue the dialogue and to plan a "study group" of Mexican government and industry representatives to come to the United States to see firsthand the U.S. ethanol supply chain and experts to learn further about the benefits of ethanol blending.
The workshop is part of a larger effort by the U.S. industry to share information with Mexican regulators as they consider increased use of ethanol produced locally from sorghum or imported from the United States. At last week's Export Exchange, I talked with U.S. Grains Council director for Mexico City Ryan LaGrande about that effort.
"We're heavily involved in the ethanol scene in Mexico and the prospects are very bright," said LaGrande. "The Mexican government recently passed a regulation allowing 5.8 percent ethanol to be blended into gasoline in the entire country outside of the three major cities – Mexico City, Guadalajara, and Monterrey. So we still have about 65-70 percent of the market that we can work with to blend ethanol."
LaGrande says the industry has been doing trade missions and technical conferences to educate Mexican regulators about the benefits of increased ethanol use "so we can hopefully lift the prohibition in the three major cities and eventually move to 10 percent blends or higher."
Learn more in this interview: Interview with Ryan LaGrande, USGC
2016 Export Exchange Photo Album
Coverage of Export Exchange 2016 made possible by