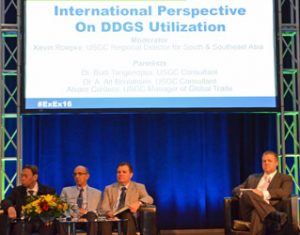 A panel of U.S. Grains Council consultants traded international perspectives on the utilization of the ethanol co-product distillers dried grains (DDGS) in various countries during Export Exchange 2016.
The panel included (pictured left to right) Indonesia consultant Dr. Budi Tangendjaja, Moroccan consultant Dr. A. Ait Boulahsen, USGC Global Trade manager Alvaro Cordero and moderator Kevin Roepke, USGC regional director for Southeast Asia. ExEx16 DDGS Panel
The group discussed the challenges and opportunities of increasing use of DDGS in animal feed in various regions of the world. Cordero says more than 40 countries are consistent customers for U.S. DDGS but others are leaving "a lot of money on the table" by not taking advantage of the feed.
"Countries have been able to embrace and use DDGS in a fast and very aggressive way, while other countries have not," said Cordero in an interview after the panel discussion. "Some are basic logistical issues, others are simply the difficulty for them to change their ways of working for decades with the same type of formulation."
While China still remains the top destination for U.S. DDGS, despite a significant drop this year due to trade issues, Mexico is number two and still growing. "Right now we're looking into regions where very little exports are occurring, such as southern Mexico," said Cordero. "Also, the swine industry in Mexico … could have higher inclusion rates."
Learn more in this interview – Interview with Alvaro Cordero, USGC
2016 Export Exchange Photo Album
Coverage of Export Exchange 2016 made possible by