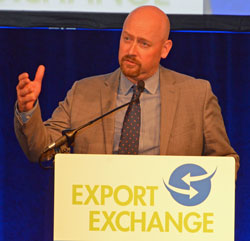 At Export Exchange 2016 in Detroit this week, Renewable Fuels Association (RFA) Senior Vice President Geoff Cooper delved into the supply-demand outlook for U.S. ethanol industry co-product exports, with a focus on distillers dried grains with solubles (DDGS).
"We're looking at record ethanol production this year, so obviously we're going to be producing a record amount of distillers grains as well, somewhere around 37-38 million metric tons," said Cooper. "That's easy to figure out but what gets tricky is the demand side."
In the domestic market, Cooper says demand is bright. "We are looking at record numbers of hogs and poultry in the U.S. and obviously those animal eat a fair amount of distillers grains," he said. In addition, dairy cow inventories are at a 20-year high and cattle on feed numbers are increasing. "So, we're looking at record feed demand in the U.S., and that bodes well for distillers grains."
On the export side, Cooper says the industry is exporting about 12 million tons, or one-third of the distillers grains produced right now, with just ten countries making up the bulk of that. "We've seen dramatic growth in exports in the last decade, but a lot of that has been tied to the Chinese market," said Cooper. China accounted for as much as half of DDGS exports two years ago, but that has fallen dramatically in the past year. "Fortunately, when we've seen losses in China, we've seen increases in exports to other markets," he said. In fact, exports of U.S. DDGS to Mexico, Vietman, South Korea and Turkey all increased significantly in this past marketing year.
Learn more in this interview: Interview with Geoff Cooper, RFA
Check out Cooper's power point presentation here.
2016 Export Exchange Photo Album
Coverage of Export Exchange 2016 made possible by