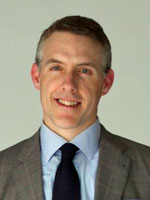 Christopher Hogan has joined Growth Energy as their new Vice President of Communications and Public Affairs. In this role, Hogan will oversee all aspects of the organization's efforts to raise awareness of ethanol's importance as America's leading source of clean, affordable, homegrown energy.
"I'm excited to join the dynamic team at Growth Energy and help shape a new generation of best-in-class communications strategies across advocacy, public relations and social media," said Hogan. "The ethanol industry encompasses some of the country's most passionate entrepreneurs, innovators and advocates. I can't wait to help bring more of those voices into the conversation about America's future, share their stories with consumers and drive the debate among policymakers."
Hogan joins Growth Energy from the International Bottled Water Association (IBWA), where he served since 2011 as Vice President of Communications. In that role, he represented the industry in U.S. and international publications and managed award-winning public relations efforts designed to strengthen IBWA's role as a thought leader at the local and national level on industry, environmental, health, safety and consumer issues.
"America's biofuel industry continues to grow, opening new and exciting opportunities to engage with consumers, business leaders and policymakers," said Emily Skor, CEO of Growth Energy. "Chris' deep understanding of association management, energy policy and consumer engagement make him a perfect fit to lead those conversations. With the addition of his expertise, Growth Energy will continue to break new ground in our efforts to deliver better, cleaner choices at the pump."