A new fleet fuel economy and fuel usage study has found that the median fleet-wide fuel economy of 6.5 miles per gallon is being achieved through a number of technologies including biodiesel. The survey was released by the American Transportation Research Institute (ATRI) and the University of Michigan Transportation Research Institute (UMTRI) and was sponsored by ExxonMobil. For truck-tractors, aluminum wheels, speed limiters and low rolling resistance tires were reported as the most common fuel-saving technologies. For trailers, low rolling resistance tires, aluminum wheels and weight-saving technologies were identified as the most common technologies.
Nearly 100 fleet managers participated in the study and provided views on current and future trends in fuel technologies. They also offered their opinions on alternative fuels. Respondents represented more than 114,500 heavy-duty truck-tractors and nearly 350,000 trailers.
The report, "A Survey of Fuel Economy and Fuel Usage by Heavy-Duty Truck Fleets," found limited use of alternative fuels with biodiesel blends including B5, B10 and B20, identified as the most common alternative fuel being used today. The survey found that fleet managers generally see the top advantages of specific alternative fuels as lower in cost, cleaner (reduced emissions), and more available than other alternative fuels. Respondents indicated the disadvantages of using fuels include availability or infrastructure for distribution, increased cost overall and possibly lowering fuel economy for their fleet.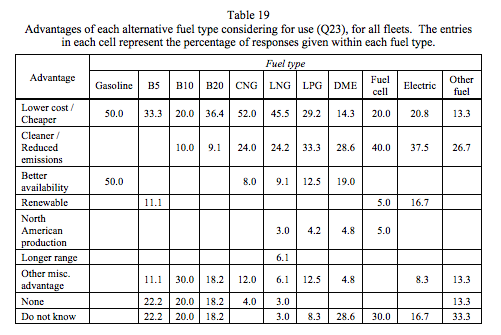 "This report shows which technologies fleets are using and which ones they are more skeptical about," said Steve Niswander, vice president, safety policy & regulatory relations with Groendyke Transport, Inc. and Chairman of ATRI's Research Advisory Committee. "It also serves to highlight the difficulties fleets face when deciding which technologies are the best investments."