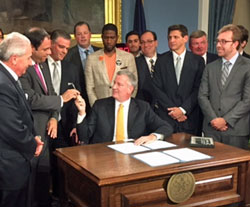 New York City Mayor Bill de Blasio yesterday signed a bill into law that will increase the use of biodiesel, in the form of Bioheat, and decrease the use of heating oil in the Big Apple. The bill was passed by the city council last month and will increase the amount of biodiesel in heating oil from the current 2 percent level to five percent by October 2017, ultimately increasing to 20 percent in 2034.
"Congratulations to New York City for this tremendous move to clean heating with sustainable biodiesel," said Donnell Rehagen, Chief Operating Officer of the National Biodiesel Board. "We applaud Mayor de Blasio for signing this bill that will reduce emissions and improve air quality for all New Yorkers. More biodiesel in the City also supports green jobs, local businesses, and American energy independence."
It is estimated that the increase from a two percent biodiesel blend to a five percent blend in New York City would reduce the emissions equivalent to taking 45,000 cars off the road with the increase to 20 percent the equivalent of removing more than a quarter of a million cars.