Fed-Ex along with Clean Energy Fuels Corporation have opened a new compressed natural gas (CNG) fueling station in Oklahoma. Armed with cutting edge technology, the CNG station will enable Fed-Ex to fuel more than 100 of its Freight Class 8 trucks with fast fueling technology.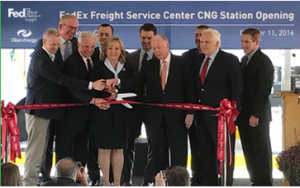 During a ribbon cutting ceremony, Clean Energy also announced plans to supply the station with its Redeem renewable natural gas (RNG) vehicle fuel. According to the company, this fuel can reduce greenhouse gas emissions by up to 70 percent as compared to traditional diesel.
The event at the FedEx Freight Oklahoma City Service Center was attended by Oklahoma Governor Mary Fallin, FedEx chairman and CEO Fred Smith, Clean Energy co-founder Boone Pickens, and Clean Energy president and CEO Andrew Littlefair, as well as many other federal, state and local and industry officials.
"As one of the largest logistics companies in the world, FedEx does its homework when charting a new course and their decision to open up a major CNG fueling center was no different," said Andrew J. Littlefair, CEO and president of Clean Energy during the celebration. "Led by Fred's vision, the company has always had a commitment to operate on the highest sustainable level. Transitioning a portion of FedEx Freight's fleet to a fuel that will substantially reduce greenhouse gas emissions is another example of their leadership."