Government data analyzed by the Renewable Fuels Association (RFA) shows that U.S. ethanol exports for August 2016 totaled 77.9 million gallons (mg), an increase of 12 percent from July. The top monthly customer was Brazil with 25.1 mg followed by Canada at 20.9 mg. India increased its exports to 14.0 mg while the remaining exports went to 31 markets. Year-to-date, exports stand at 594.3 mg with yearly estimates for 2016 at 891.4 mg.
Denatured fuel ethanol exports dropped 10 percent from July to 19.8 mg. The majority of the product was sent to border countries with 17.8 mg going to Canada and 1.9 mg delivered to Jamaica. Export sales of undenatured fuel ethanol increased 15% over July to 50.6 mg—only the second time in 18 months to breach 50 mg. Brazil increased its imports to 25.1 mg—half of all U.S. shipments—as did India at 14.0 mg. The Philippines reduced its August exports to 3.8 mg. Other notable destinations were Peru (2.2 mg), Mexico (1.8 mg), China (1.5 mg) and Singapore (1.1 mg).
Sales of denatured ethanol for non-fuel use tripled over July to 1.1 mg, with Mexico's purchase of 777,371 gallons. August sales of undenatured ethanol for non-fuel, non-beverage use also more than doubled over the prior month to 6.5 mg—the highest level on record since March 2012. More than half of those shipments were destined for Nigeria (3.4 mg), followed by Canada at 3.0 mg.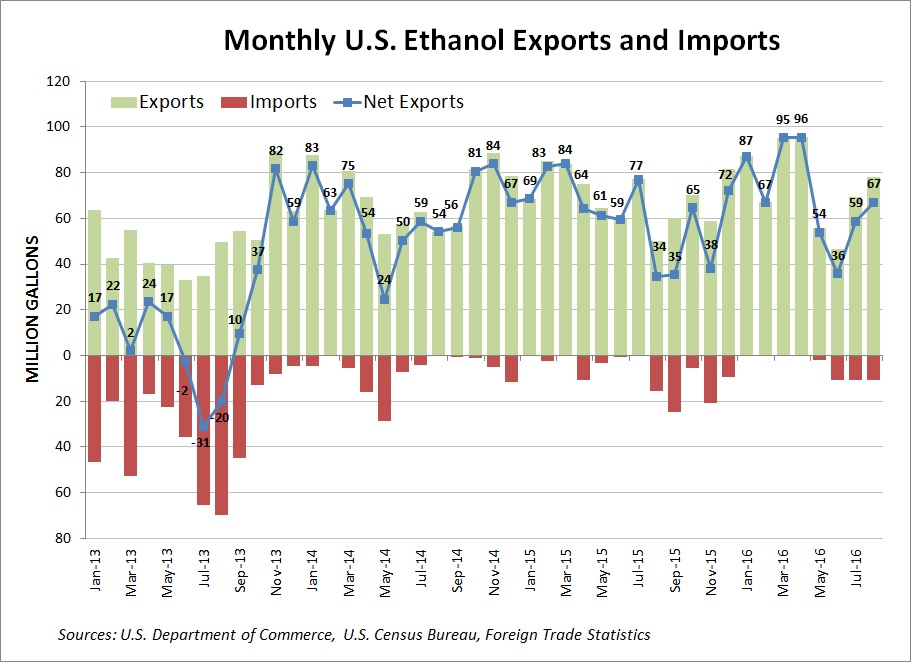 For the third straight month, sizable volumes of shipments of ethanol were imported into the U.S. Brazil upped it imports by 2 percent to 10.7 mg of undenatured fuel. Despite the nearly 32 mg of imports streaming in this summer, the year-to-date total of 33.7 mg is running just 3 percent ahead of 2015, and suggests yearly imports will close out 2016 around 50.5 mg.
Export of U.S. distillers dried grains with solubles (DDGs) increased 6 percent over July to 1.160 million metric tons (mt) with exports up 34 percent since February 2016. China was the top market for the fourth consecutive month in August exporting 262,201 mt; however, it was a 10 percent decrease from July. Top markets for August were Mexico (200,199 mt), Vietnam (127,009 mt), South Korea (117,029 mt), Thailand (75,438 mt) and Turkey (68,194 mt). Through August, DDGS exports stood at 7.6 million mt, indicating an annualized total of 11.4 million mt.