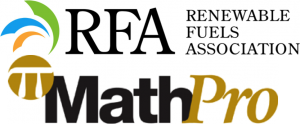 The Renewable Fuels Foundation is hosting its last of five webinars tomorrow (Thursday, September 29, 2016) focused on ethanol's unqiue octane properties, its importance as a blend component in today's gasoline supply, and its potential role as the low-carbon octane source of choice in future fuels.
The fifth webinar will focus on the economics of high octane fuels, specifically the refining economics of producing BOBs for high-octane, mid-level ethanol blends and issues in making the transition to a higher octane gasoline pool.
The webinar, which is being conducted by MathPro, Inc., a firm specializing in technical and economic analysis of the petroleum refining sector, will be held from 11:00 am – noon CT and is free for RFA members and non members can attend for a fee. To reserve your spot, please contact Missy Ruff at 202-446-1944.
Karen Anderson-Schank of RFA member company CHS has said these webinars "present an excellent opportunity to learn more about the tremendous octane benefits provided by ethanol … After participating in the first webinar, I would strongly recommend this series to colleagues in the industry."
More information on all five webinars is available here.