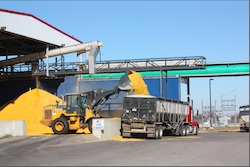 China's Ministry of Commerce (MOFCOM) issued a preliminary ruling Friday claiming that U.S. dried distillers grains (DDGS) are being dumped and have caused injury to China's DDGS industry and imposing immediate duties of 33.8 percent on the import value of the DDGS.
The U.S. Grains Council (USGC), the Renewable Fuels Association (RFA) and Growth Energy issued a joint statement saying they are disappointed in the action. "We are proud of the role that U.S. and Chinese DDGS have played in helping China's animal feed industry to produce high-quality animal feed products to supply China's rapidly growing meat industry, and in ensuring that Chinese consumers continue to have access to safe, affordable and nutritious protein products," they stated. "We are confident that U.S. DDGS are not being dumped and are not causing or threatening injury to Chinese producers."
USGC has been actively involved in the China situation since the government first announced it was investigating DDGs dumping earlier this year, attending a recent hearing on behalf of the U.S. industry in Taiwan.
"Our industry deeply appreciated the support that we received at the recent hearing in China from our Chinese customers, and we remain hopeful that MOFCOM will find in its final determination that continued access for U.S. DDGS is in China's interest," the industry statement continued.
There's no indication of when the Chinese government will issue a final decision on the matter.