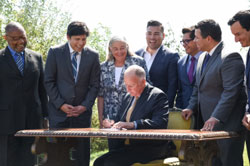 California Governor Jerry Brown signed a bill this week which require the state to cut emissions at least 40 percent below 1990 levels by 2030 and biodiesel is part of the plan to make that happen.
"The bill will ensure that the future of low carbon fuels in California remains bright," said National Biodiesel Board Director of State Governmental Affairs Shelby Neal. "Biodiesel and renewable diesel are leading credit generators under the low carbon fuel standard and we expect their presence to continue growing with the expansion of this landmark policy."
California is expected to meet or exceed the current target of reducing greenhouse gas emissions to 1990 levels by 2020, as established in the California Global Warming Solutions Act of 2006. The new 2030 requirement will help make it possible to reach the ultimate goal of reducing emissions 80 percent under 1990 levels by 2050.