Mark your calendar for the 2016 Energy Conference taking place in Des Moines, Iowa September 19-21, 2016. The event brings together public and private entities to discuss energy policy, climate change (carbon credits) and to network. According to event planners the purpose of the event is to "create profit-driven opportunities that accomplish the goals of an energy independent future for America."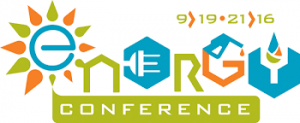 On the docket are in-depth discussions about marketing and retailing of alternative fuels including biodiesel and ethanol.  These conversations will include information about existing fuel supply opportunities, alternative fuel choices and grant incentive programs available for new equipment and infrastructure. There will also be workshops on federal and state policies with perspectives from key players on what to expect in the next two years.
The 2016 program will include Iowa Lieutenant Governor Kim Reynolds; John Eichberger, executive director of The Fuels Institute; Larry Pearce, executive director of the Governors' Wind and Solar Energy Coalition; Douglas S. Haugh, president of Mansfield Oil Co.; Jeremy Bezdek, vice president of biofuels and ingredients at Flint Hills Resources; Karyn Jones, chief operations officer of EcoEngineers; Jeff Hove, vice president of RINAlliance; and Zander Capozzola, editor of the Argus Americas Biofuels report; to name just a few.
According to conference host Dawn Carlson, president and CEO of the Petroleum Marketers and Convenience Stores of Iowa, the 2016 Energy Conference is about focusing attention on profitable operations and growth for today's technology and tomorrow's innovators.
"Whether you are concerned about supply contract terms and conditions, which include RIN credit and IRS blender credit valuation, or you're simply looking for competitive sources of alternative fuels, the 2016 Energy Conference will help you identify solutions," Carlson said. "We were excited to secure sponsors like the RINAlliance, Renewable Energy Group, EcoEngineers, DuPont Pioneer, and NATSO, to name just a few. We also appreciate the strong support of BBI International and Fuel Marketer News for their interest in this national energy event."
Click here to register or to view the technical session agenda and list of speakers for the 2016 Energy Conference.