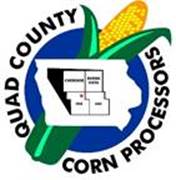 Quad County Corn Processors will be hosting two special guests on Wednesday, August 31, 2016 – U.S. Senator Joni Ernst (R-IA) and Iowa Governor Terry Branstad. The two are set to arrive at the ethanol biorefinery at 9:15 am CT.
Senator Ernst and Governor Branstad will tour Quad County's state-of-the-art Cellerate process technology production facility and then meet with Quad County staff and board members to discuss cellulosic ethanol issues. Two specific items on the agenda include: the need to get high compression engines manufactured by auto companies to increase the ethanol market to be large enough to need cellulosic ethanol; and the need for an RVP waiver for E15.
Also in attendance will be Jack Bernens, Head of Enogen at Syngenta; Ponsi Trivisvavet, President of Syngenta Seeds, LLC; Jeff Sands, Manager, Federal Government Relations at Syngenta; and Monte Shaw, Executive Director, Iowa Renewable Fuels Association.