It came as no surprise that the 29th annual ACE Ethanol Conference was a huge hit with attendees this week. One comment that was often heard was how great the content was. Attendees were also pumped-up about the efforts of American Coalition for Ethanol (ACE) to help get E15 at pumps across the country. After the conference concluded, I w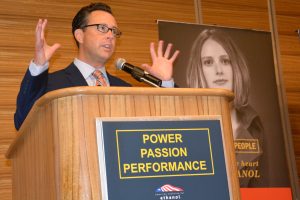 as able to sit down with ACE Executive Vice President Brian Jennings to get his take on this year's event.
I first asked him what he thought some of the highlights were this week. He said one, in his view, was the re-commitment that the Renewable Fuel Standard (RFS) is important, but that the industry needs to continue to build momentum for other ways to increase the use of ethanol. Some of these ways include exports and increasing octane. "I think there was a greater appreciation for the hurdles we're going to have to clear if we're going to actually use octane to drive demand," said Jennings.
Out of the octane discussion, Jennings said there were some areas that were brought to light about where the industry needs to be more involved. One area is the industry needs to be more involved with ATSM.
Jennings said he was very gratified about the Merle Anderson award, and the fact that Merle Anderson, at 85 years old, was able to come back to the ACE Conference. This year's award was given to Lars Herseth who for many years has served on the ACE board. Jennings said the awards really highlight how great some of the people are in the industry.
So what's on the horizon for ACE? Jennings said another big ad buy in Washington, D.C. is in the works to promote the Reid Vapor Pressure fix required to offer E15 across the country year round. Jennings said they are really going to need to get down in the weeds on the CAFE greenhouse gas rule making. "EPA doesn't want this to be a pathway for higher octane fuels but the auto makers have an interest in enabling ethanol to be pathway for high octane fuels as do we," he noted. In addition, ACE will continue to work with retailers to help them understand the math of E15 and flex fuels.
In closing, Jennings thanked his six staff members for their team effort as well as thanked the volunteer members who helped, which he said is really heartwarming. "They make me really proud," he added.
Learn more about Brian's thoughts on this year's ACE Ethanol Conference here: Interview with Brian Jennings, ACE