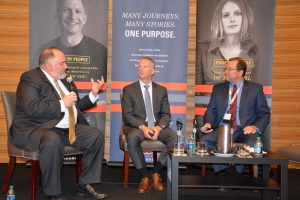 Several retail chains have been leading the way in bringing E15 and E85 to consumers. One of these chains, based in the Northeast, is Sheetz. While some retailers are focusing on E15, others are focusing on E85 such as Pearson Fuels. Representatives from both of these chains took the stage this week during the 29th annual ACE Ethanol Conference for the panel discussion, "Progress at the Pump: A Conversation with Leading Retailers on E15 and Flex Fuels."
Mike Lorenz is the executive vice president, petroleum supply, for Sheetz, based in Pennsylvania. The company is the largest single retailer of E15 in the country and unveiled their first E15 pump in North Carolina in August of 2015. Bob Sheetz founded the company in 1952 and since then has grown into a leading retail chain operating today in six states.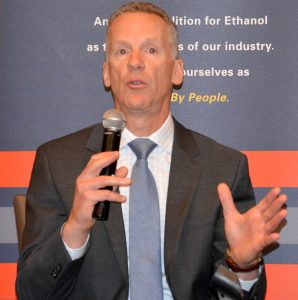 Lorenz noted that the ethanol industry has a sense of family unlike oil which has a "dark side". He also noted that the market needs pull from consumers and he believes this can be in the form of E15. However, one issue will need to be resolved for the fuel to really take off, he said, and that is to change regulations to allow E15 to be sold year round.
Listen to Mike Lorenz's comments here: Mike Lorenz, Sheetz, Presentation
Also on the docket was Mike Lewis, general manager of Pearson Fuels, based in San Diego, California. His company was on the forefront of offering E85 to Southern California drivers. To date, his company has developed 19 stations from different brands to sell E85 including their own Pearson Fuels Branded retail station. The retailer has plans to add another 15 additional sites. In addition, Pearson Fuels also has a fuel depot where they sell ethanol.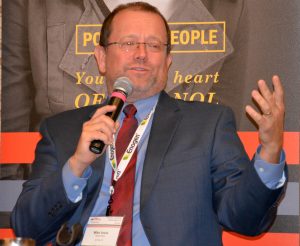 One program that enabled the company to ramp up E85 pumps was the Prime the Pump program. The program was a primary factor, said Lewis, that convinced them to add E85. The program assists retailers with the costs to add flex fuel pumps to their station, an often barrier for many retailers. The company also received funds from the state to help with infrastructure costs. Another barrier on the consumer side is price so Lewis said the fuel has to be priced right for consumers to make the E85 choice at the pump. He also noted that due to state regulations, E15 can't be sold in California. As a result, to overcome the so-call blend wall will be blends such as E85.
Listen to Mike Lewis's comments here: Mike Lewis, Pearson Fuels, Presentation
There was a great discussion with the retailers following their presentations and you can listen to it here: Progress at the Pump Panel Discussion