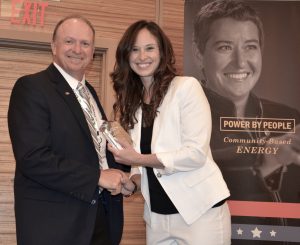 And this year's winner of the American Coalition for Ethanol's (ACE) Unsung Hero award is Rick Schwarck of Absolute Energy. Schwarck was presented with the award during the 29th annual Ethanol Conference that took place this week in Minneapolis, Minnesota. Absolute Energy is located in St. Ansgar, Iowa and was one of the first biorefineries to begin selling ethanol direct to retail stations as a means of passing along the best prices possible to the retail station and ultimately the consumer. The result? Price it right and they will come. Yes, local station ethanol sales, said Schwarck, prove that consumers will choose ethanol at the pump.
"Rick is an industry leader through and through. He is always the first in line to lead efforts to spread the word about the benefits of ethanol; from attending fly-ins, speaking at events, working with EPA, and coming up with innovative ways to share ethanol's message, Rick is always ready to inform others in the most persuasive way possible," said Brian Jennings, executive vice president of ACE.
During a luncheon, Schwarck was presented with the award by ACE's own Lacey Dixon who commended him on his tireless efforts to promote ethanol to Americans. During his remarks, he said that he was humbled by the award and thanked his team, of whom without, he said, couldn't have accomplished what he has.
Listen to Lacey Dixon's remarks: Lacey Dixon Unsung Hero Remarks
Listen to Rick Schwarck's remarks on winning the Unsung Hero Award: Rick Schwarck's Remarks on Winning ACE Unsung Hero Award