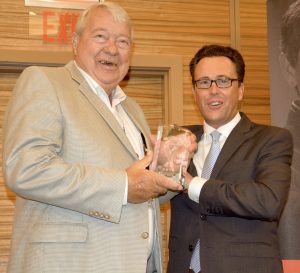 Ethanol advocates are part of the life blood of the success of the ethanol industry. As such, the American Coalition for Ethanol (ACE) honors a group of ethanol advocates each year during their annual Ethanol Conference who demonstrate outstanding contributions and efforts to promote ethanol. This year was no exception and the most prestigious award presented each year is the Merle Anderson Award. This year's winner was Lars Herseth, who currently serves as a board member of POET Big Stone. Herseth partially received the award because of his efforts during his 15 years on the ACE board and his three years as President of the organization.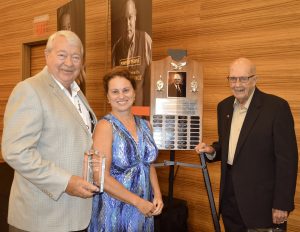 "His leadership, experience and expertise on legislative and policy priorities helped to strategically position the organization for several years," said ACE Executive Vice President Brian Jennings who noted that he got a start in politics as an intern for Herseth and had the fortune to work with him for many years.
After offering kind words, Jennings passed the microphone to Merle Anderson himself, fondly known as the Father of Ethanol and the founder of ACE nearly 30 years ago. He said he was very pleased to hear that Herseth, a dear friend of his, was going to win the award, and applauded him on what he has done for the industry.
Herseth then took the stage to officially accept his award and during his remarks thanked the entire ACE family for their work and support. He said this award was extra special because so many people, including himself, were inspired by the work Merle has done over the years. He added that with the support of ACE and the ethanol family, he knows that ethanol will become the biofuel of the future.
Listen to Brian Jenning's remarks: Brian Jennings, Merle Anderson Award, Remarks
Listen to Merle Anderson's remarks about Lars: Merle Anderson's Remarks
Listen to Lars Herseth's remarks about winning the Merle Anderson Award: Lars Herseth, Merle Anderson Recipient