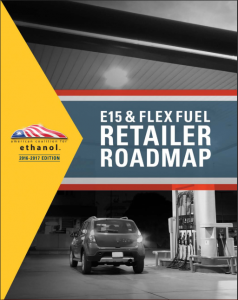 Big news for retailers today out of the 29th annual Ethanol Conference hosted by the American Coalition for Ethanol (ACE). The grassroots ethanol leader has released the E15 and FFV Retailer Roadmap. The new educational tool for gas station owners was released during a press conference this afternoon and was created to address some of the most frequently asked questions by retailers about E15, E85 and flex fuel vehicles (FFVs).
ACE VP of Market Development Ron Lamberty said that a few years ago they released a Status guide that highlighted state-by-state ethanol labeling, and also included data on ethanol production per state. With other strong documents already in the marketplace, more technical in nature, Lamberty said they felt there was a need for a more "friendly" document and the perfect tie-in, he said, was a roadmap like gas stations used to sell before GPS.
The Retailer Roadmap will serve as a reference guide to help retailers, fuel marketers and equipment companies understand E15 and flex fuels while also laying out the economic proposition of adding mid-level and higher level ethanol blends such as E15 and E85.
"Ther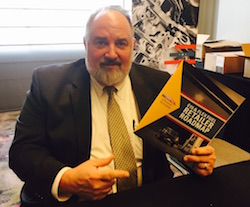 e was a time when service stations had a rack full of roadmaps showing the main highways and roads in the state, with more detailed maps of the state's bigger cities. Journeys were planned by looking for the place you wanted to go, and considering all of the routes that could get you there," explained Lamberty. "The E15 and Flex Fuel Retailer Roadmap is like those maps. It' s not a GPS system providing turn-by-turn instructions – because every retail station owner's journey is different."
The guide addresses frequently asked questions about flex fuels, provides market statistics for each state for E15 and flex fuels and looks at the comparison between ethanol blends and premium and diesel. "We think retailers will be interested in the 'back-of-the-napkin' E15 and flex fuel 'math' included in the Roadmap," Lamberty said who stresses that when retailers learn to "do the math" they see that offering consumers ethanol blend choices at the pump offers them a profitable advantage over their competitors. The guide helps with the math in that it shows real-life examples of potential volume and profit a retailer could expect if they perform as well as an average high blend retailer or a top performing E15 and flex fuel retailer.
Copies of the Roadmap will be distributed to fuel marketers during events and mailings. The guide is also available online by clicking here.
Learn more by listening to the Retailer Roadmap Press Conference: #E15 and #FFV Retailer Roadmap Press Conference
Interview with Ron Lamberty on the Retailer Roadmap: Interview with Ron Lamberty, #ACE16