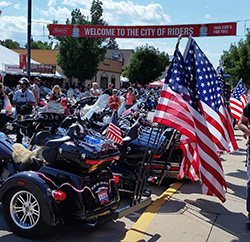 This is the 76th year of the Sturgis Motorcycle Rally. The action kicked off at the beginning of this weekend before I got here. Thanks to the city of Sturgis for this photo of the American Legion Riders, Post 71. They rode approximately 90 miles from Hot Springs SD to present a flag for the Harley-Davidson Rally Point Plaza, where the grand opening was held.
Last year was a huge year for attendance with the 75th anniversary but this year is still strong judging by the number of vendor permits just in town.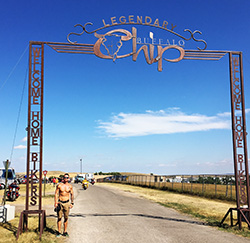 Now on to the Sturgis Buffalo Chip Campground. Here's ZimmComm New Media GM, Clint Underwood, at the entrance. He's a first-timer and soaking in all the sights and sounds.
We're here working with the Renewable Fuels Association once again to not only help educate bikers about ethanol blended gasoline but to also pump some free gas at Free Fuel Happy Hours. I'll be interviewing bikers and others and publishing mostly on our renewable fuels website Energy.Agwired.com.
Tomorrow is set up day before we get busy in the afternoon so it will probably be Tuesday morning before we can share much more.