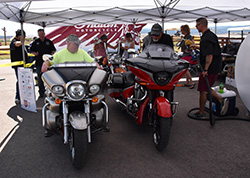 Bikers love ethanol blended fuel at the Legendary Buffalo Chip Campground. They also love free fuel! Thanks to the Renewable Fuels Association, Free Fuel Happy Hours are back at the Sturgis Motorcycle Rally.
This is not just a promotional effort, it's an educational effort to help bikers and the general public learn and understand the facts about this renewable fuel source. Motorcycle manufacturers like Harley-Davidson, Indian, Victory, Triumph and more all have statements in their owner's manuals that say fuel blended with up to 10 percent ethanol is approved.
Bikers like to know what other bikers have to say so I spoke to our first customer at today's Free Fuel Happy Hours. He's very happy running ethanol blended fuel in his bike.
Listen to his comments here: RFA Free Fuel Customer Interview
I will be collecting more interviews over the next couple days from here in Sturgis, SD and sharing photos as time allows. I hope you enjoy our coverage which is sponsored by the RFA.