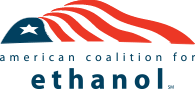 The 29th annual American Coalition for Ethanol (ACE) conference kicked off in Minneapolis, Minnesota today and one of the first items on the agenda was the election of its board of directors. Four board members were re-elected and three new representatives were appointed to the board.
Board members re-elected to serve three year term include:
Owen Jones, representing Full Circle Ag Cooperative
Duane Kristensen, representing Chief Ethanol Fuels
Dave Sovereign, representing Golden Grain Energy
Dale Tolifson, representing Minnesota Corn Growers Association
New board members elected to a three-year term include:
Scott McPhetters, representing KAAPA Ethanol
Rick Schwarck, representing Absolute Energy
Chris Studer, representing East River Electric Cooperative
Studer is replacing Scott Parsley who retired from East River Electric Cooperative in 2015. Click here to view the ACE's full Board of Directors.
"The ACE board of directors is a focused group of active volunteers who highlight the grassroots diversity of our entire membership," said Brian Jennings, ACE Executive Vice President. "Our member interests are clearly represented by the passion, expertise, and experience the ACE board brings to the table and we are grateful for their support and leadership."