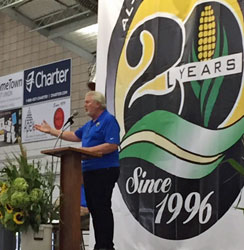 Al-Corn Clean Fuel in Claremont, Minnesota celebrated its 20th anniversary this week with members of the ethanol industry. The farmer-owned cooperative began operations in 1996 and now produces 50 million gallons of ethanol per year with plans to expand to 120 million gallons per year.
"It took courage and energy to create the organization that stands today as Al-Corn Clean Fuel; everyone played a significant role," said Randall Doyal, CEO of Al-Corn and chairman of the Renewable Fuels Association (RFA). He added that Al-Corn was established in 1994 by local farmers who were looking for new opportunities to add value to their corn corp, starting operation in 1996 with 10 million gallons per year and growing steadily since then.
"Al-Corn Clean Fuel has been a leader within the U.S. ethanol industry and at RFA," said Renewable Fuels Association President and CEO Bob Dinneen, who attended the celebration. "The company has been a local economic engine, providing jobs and investment opportunities to the area. Even today, some twenty years since it began, almost all of the farmer coop members live within 20 miles of Claremont."
Even some of its board members like its current chairman, Rodney Jorgenson, have been with Al-Corn since 1994.
"When I think back over the last 20 years, I'm reminded of what can be accomplished when people band together with common purpose. As farmers, our goal was to increase the price of our corn through processing. I doubt any of us could have imagined the success we would have," Jorgenson said.
The Al-Corn Clean Fuel ethanol plant also produces 132,000 tons of high protein livestock feed, 12 million pounds of corn oil and 70,000 tons of beverage grade carbon dioxide per year.