A contingency of ethanol producers from Mexico recently visited the U.S. to look at the option of sorghum as an ethanol feedstock as the country's industry continues to grow following the announcement by Pemex, the country's state-owned petro company, to blend ethanol into its gas. Hosted by the U.S. Grains Council (USGC) in partnership with the United Sorghum Checkoff Program (USCP), the trade team visited Kansas and Texas to learn more about sorghum and its benefits. Earlier this year, a U.S. delegation of ethanol industry reps visited Mexico to discuss the success of the American ethanol industry and several biofuel policies.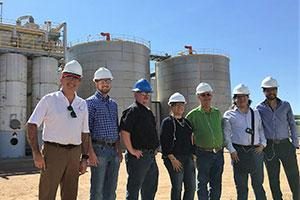 "Producers are looking to expand their plants," said Heidi Bringenberg, USGC manager of global programs, who accompanied the team. "Some producers are currently using sugar cane and beets in production. This program gave them the opportunity to see how sorghum could be used too."
While in the states, the trade group participated in a lab tour as well as a workshop on purchasing strategies and risk management tools. In addition, the delegation received an ethanol plant tour. The aim of the day was to demonstrate the economic feasibility for Mexican ethanol producers to purchase American-grown sorghum.
"Producers were able to see how flexible sorghum is," said Javier Chavez, USGC marketing specialist in Mexico. "U.S. sorghum as an ethanol feedstock can be helpful for Mexican producers because it helps them ensure consistent supply without fully relying on local production."
The trade team is one of many coordinated by USGC to connect buyers and sellers of grains products such as sorghum. Buyers and sellers will also have an opportunity to network at the upcoming Export Exchange taking place October 24-25, 2016 in Detroit, Michigan.