During the United Nations High Level Political Forum's Sustainable Development Goal Business Day held in New York, the Air Transport Action Group (ATAG) launched a new report detailing the path to global aviation sustainability. "Aviation: Benefits Beyond Borders," finds that over the next 20 years, aviation-supported jobs worldwide will increase to over 99 million and GDP to $5.9 trillion. The leading areas of growth will be in Africa, the Middle East and Asia-Pacific.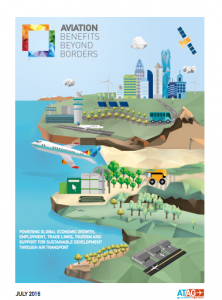 However, the report finds that to achieve sustainable growth governments must be supportive in all facets of the sector including modernizing the fleet, reducing airfares and better access to air transportation. Today, 54 percent of all international tourists and 35 percent of international trade by value travels by air.
The report finds that in 2014, airline operations produced 739 million tons of carbon dioxide (CO2), just under 2 percent of the total human carbon emissions of over 36 billion tons. The aviation industry agreed in 2008 to the world's first set of sector-specific climate change targets. The industry is already delivering on the first target to continue to improve fleet fuel efficiency by 1.5 percent per year until 2020, finds the report. From 2020, aviation will cap its net carbon emissions while continuing to grow to meet the needs of passengers and economies. By 2050, the industry has committed to reduce its net carbon footprint to half of what it was in 2005. Companies across the sector are collaborating to reduce emissions using a four-pillar strategy of new technology, efficient operations, improved infrastructure and a global market-based measure to fill the remaining emissions gap.
ATAG executive director, Michael Gill, says that the adoption of the 2030 Agenda for Sustainable Development at the United Nations highlights a number of goals that the international community should strive to achieve by 2030: "We found that air transport in some way supports 14 of the 17 Sustainable Development Goals, from decent work and economic growth to quality education and reduced inequalities. By continuing to grow in a sustainable manner, aviation can strive to be a force for good for many years to come."