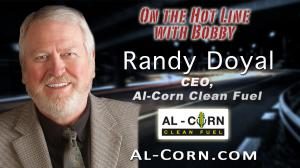 Last Saturday, Bobby Likis, host of nationally syndicated car-talk radio program "Bobby Likis Car Clinic," shared the mic with CEO of Al-Corn Clean Fuel Randy Doyal. The ethanol facility is located in Claremont, Minnesota. Doyal is also the chairman of the board of the Renewable Fuels Association.
During the program, Doyal discussed ethanol and its benefits to local and national economies, to the environment and to national security. He shared how Minnesota's initiative in the industry is serving as a blueprint for helping solve future energy and economic challenges, as well as tackled misinformation swirling about the ethanol industry, debunking some of the more outrageous myths. In addition, Likis and Doyal will speak to the Renewable Fuel Standard (RFS) and why consumers/voters should support the RFS.
"As a 30-year veteran of the ethanol industry, I have seen the benefits we have provided to consumers in our communities and around the world, providing the lowest-cost, highest octane source on the planet. Ethanol use cleans the air, boosts local economies and helps to reduce our dependence on petroleum,"said Doyal prior to the program. "I look forward to making sure Bobby's audience of fellow automotive consumers, voters and our policymakers are aware of ethanol's numerous benefits and continue to support its use."
Click here to hear an archived version of the program.