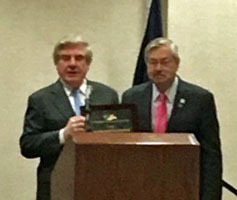 Iowa Governor Terry Branstad, the nation's longest serving Governor, was honored Friday by renewable fuels industry leaders, the Governors' Biofuels Coalition and the National Governors Association at a breakfast commemorating his steadfast leadership in renewable fuels.
"Gov. Branstad is a true champion for renewable fuels, and we're delighted to see him honored for his long-standing leadership," said Iowa Renewable Fuels Association (IRFA) Executive Director Monte Shaw.
The breakfast honoring Gov. Branstad was hosted and sponsored by the IRFA, Governors' Biofuels Coalition, Nebraska Ethanol Board and several other biofuels industry partners.