Bill Couser is a fifth generation farmer and livestock operator from Nevada, Iowa. He is also one of the founders of Lincolnway Energy, a 50 million-per-year-gallon ethanol plant, and past president of the Iowa Renewable Fuels Association. We heard his story during his testimony at the Environmental Protection Agency's (EPA) Renewable Fuel Standard (#RFS) hearing that recently took place in Kansas City, Missouri.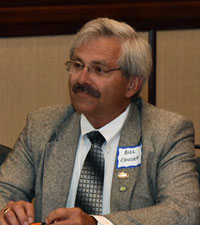 Couser began his testimony but saying that 9-11 started everything, and he recalls walking with his dad who said that he should be prepared for his country to ask him to do things he never imagined.
"We went around to communities across the country and we built these ethanol plants and we became on the way to energy independent. And we look at what happened to livestocks and farming operations as they saw those new feedstuffs that opened up new markets and made us more competitive across the the world and across our country. And also those dollars stayed home in main street America. Look what's happened in our small community where businesses have grown.
Being the co-chair of ARF [America's Renewable Future] these past few months and meeting all the presidential candidates, I understand the issues, and the facts they don't understand about the RFS2 and what's going on."
He added that as a farmer and ethanol producer who survived through the 80s on government subsidies, today he is proud that he is no longer receiving subsidies either as a farmer or as an ethanol producer. Why? Because the RFS is a safety net, and that's what he expects to be able to continue to use down the road.
Listen to more of Bill Couser's testimonial story here: Bill Couser testimony at EPA hearing
Coverage of EPA RFS Hearing made possible by